International Students at Fairmont
For nearly two decades, Fairmont Schools has actively welcomed international students to our campuses – making our international student program one of the longest-standing and most experienced in California.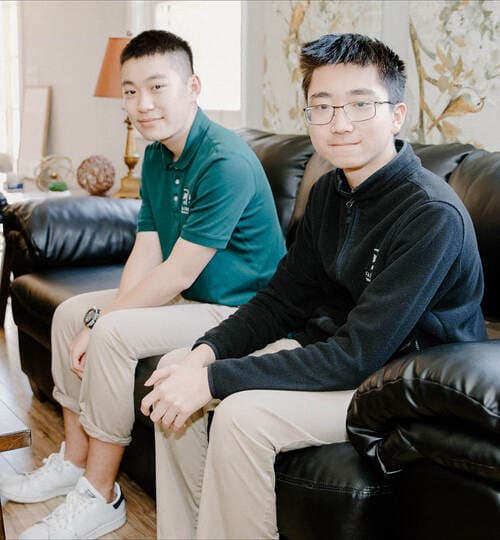 Fairmont Schools is a place of possibilities where students from abroad can learn without limits. Our program produces extraordinary academic results for kindergarten – 12th grade international students who are looking for challenging and rewarding study in the U.S. Students benefit from Fairmont's seven decades of educational excellence, along with an individualized curriculum, the support of an exceptional faculty and staff, and many opportunities for social growth and cultural exchange. 
From elementary through high school, our students work, on average, at least one year ahead of their grade level. An International Baccalaureate World School, Fairmont is one of the very few schools in the U.S. to offer all three IB Programmes. Fairmont's graduates go on to some of the most prestigious colleges and universities in the country. 
Fairmont also serves students who wish to study in their home country, yet have the rich benefit of Fairmont's renowned curriculum, as they prepare to become bilingual and biliterate, and head to the top colleges and universities in the U.S. If you are interested in learning more about our global partners, click here. 
Each year, students from over 21 countries begin their American educational journeys at Fairmont. They come to us from a variety of ages (kindergarten through high school), backgrounds, and English language proficiency levels. Those who graduate from one of our two high schools are prepared for success at the most elite institutes of learning, routinely going on to continue their studies at the top 100 colleges and universities across the United States.
Fairmont's international students discover a close-knit, globally-focused learning community, where they are encouraged to explore and fully engage in the American experience. At the same time, they are encouraged to share from the richness of their own cultures and traditions, as we recognize the valuable contributions they offer to the larger Fairmont community.
We offer two housing options that provide a safe, supportive home environment so students can succeed on a personal and academic level. Our
Homestay
offering is a welcoming, warm home experience with a local host family. Our
Boarding
program provides students with a supervised community of diverse peers within comfortable campus housing.
Average SAT of Top 10% of Graduates
% of Students Who Applied to a Top 100 College that Were Admitted
"Teachers and staff are friendly and informative. Fairmont also provides strong academic programs such as the International Business Program and the Advanced Science and Engineering Program."
– Atsada Mithpasong, Class of 2019
(currently attending Northeastern University)
Elementary (Kindergarten - 5th Grade)
Our K-5 Elementary Program provides the support English language learners need to succeed in the school's advanced mainstream classes, where students typically learn at least one year above their grade level. Dedicated teachers are committed not only to their academic success, but also to their social-emotional wellbeing. Understanding the estrangement of a new culture, unusual customs, foreign language, and social challenges, our teachers seek to ensure a quality experience in a warm and loving environment.
Middle School (Grades 6 - 8)
Through academic challenge and support, social activities, leadership opportunities, and involvement in music, art, and athletics, studying at Fairmont opens the door to America's premier high schools and beyond. Our goal is to create powerful learning opportunities both in the classroom and through a variety of exciting extracurricular activities. In the classroom, our students tackle real-world problems that inspire them to think critically and creatively, learn to work collaboratively, and develop English language proficiency through authentic experiences and rich instruction. Outside of the classroom, they have many options to participate in robust extracurricular activities such as athletics, debate, and student government.
High School (Grades 9 - 12)
At Fairmont, our mission is clear: create confident leaders and lifelong learners who will be ready to conquer the challenges of the future. We have actively defined the college prep experience for the 21st century, providing a truly personalized course of study, and developed specialized, cutting-edge programs including Advanced Science and Engineering, Business, and Artificial Intelligence and Cyber Security. These unique offerings are enriched with arts, athletics, and a multitude of opportunities to become involved in school spirit, clubs, community service, pep rallies, dances, leadership activities, and so much more!
Our exceptional group of educators ensures that whatever our students' interests, passions, or challenges, they receive the resources and support they need. We leverage "adapted classes" — courses specifically designed with our international students in mind — to blend academic coursework with language support. Curriculum and instruction are modified to meet the needs of language learners, while still providing them with the rigorous academic content needed to prepare them for collegiate courses in the future. Adapted classes are specialty courses in English, Science, and History.
Fairmont College Acceptances
Year after year, Fairmont's students are accepted to the nation's top colleges and universities, preparing them to go out and make a difference in their world. Here is just a small sampling of the institutions our graduates have attended:
Swipe to see more content.
Can you feel that weird mix of stress, relief, anticipation, and worry? It can only mean one...